HEEDPlatform Growth Through Gamification
HEED is an Internet-of-Things start-up that's transforming live events. Powered by venue and audience data, HEED uses IoT sensors to add a whole new dimension to the fan experience with fully automated and tailored content and video.
Their business centered on HEED Mobile, their direct-to-consumer mobile app. I worked with HEED to help elevate the platform's awareness and visibility, drive Mobile downloads and engage fans.
Product Strategy, Information Architect, User Interface Designer
Director of Design, Product Management
HEED's research showed that basketball-related challenges regularly go viral on social media. This spawned an idea for a unique social experience.
I worked with the Product Management and Design teams to author the MVP roadmap and sketch some ideas. After a few rounds of planning, I designed the wireframes and wrote functional specifications for the development team.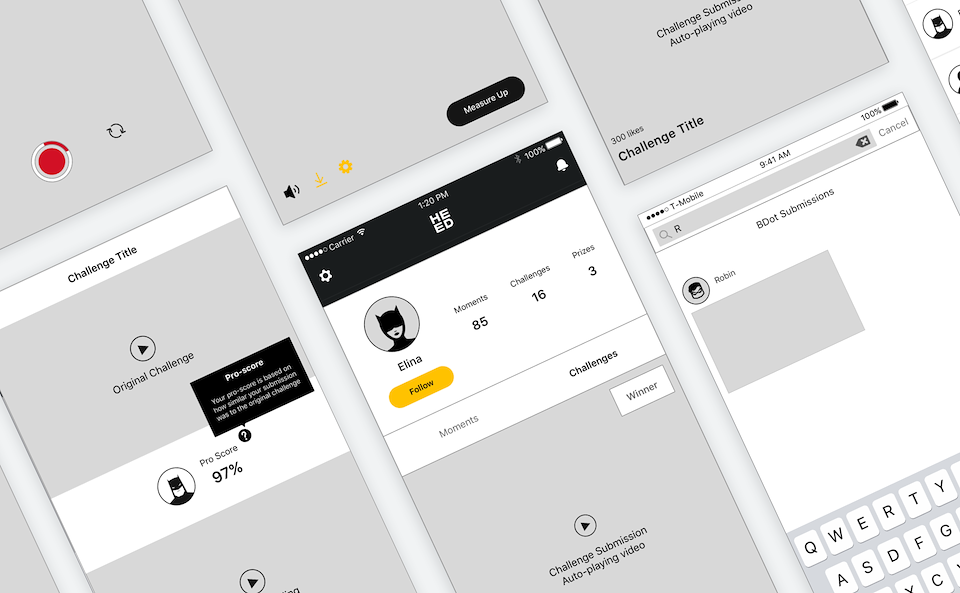 The goal of Measure Up was to drive more fans to engage in the app, and share it with others. One design hurdle was weaving Measure Up into the existing HEED architecture. As watching live events was the primary engagement KPI, I turned to events to help us resolve this design scenario.
During a pre-game show, a host would introduce the challenge for the week. A link to the Challenge Detail screen would be issued during the pre-game show. Fans that tuned into the pre-game show would have a head start to perform their challenges. A trivia game was added where fans could answer in real-time and see how they compared to others. This helped raise the likelihood that fans would watch the pre-game show. Other fans could access Measure Up from the Primary Navigation and HomeScreen.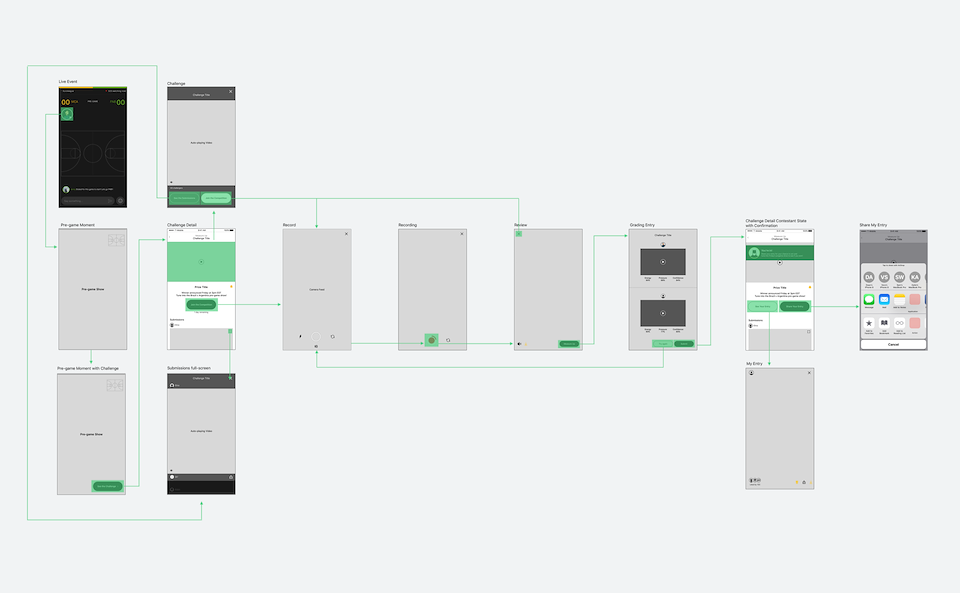 As the primary goal was to engage users, I turned to the most engaging forms of media for help: Video games. A weekly leaderboard was added to Measure Up to incentivize fans to do their best. A trophy case was added to incentivize returning users and engagement. The more that fans engaged with the app — whether by watching live events, discovering new sections of the app or chatting — the higher their chances of winning items that augment their experience. This included things like player cards, custom emojis, one-of-a-kind graphics. Fans would be able to use these items in their user-generated content and share them with other fans in chat.